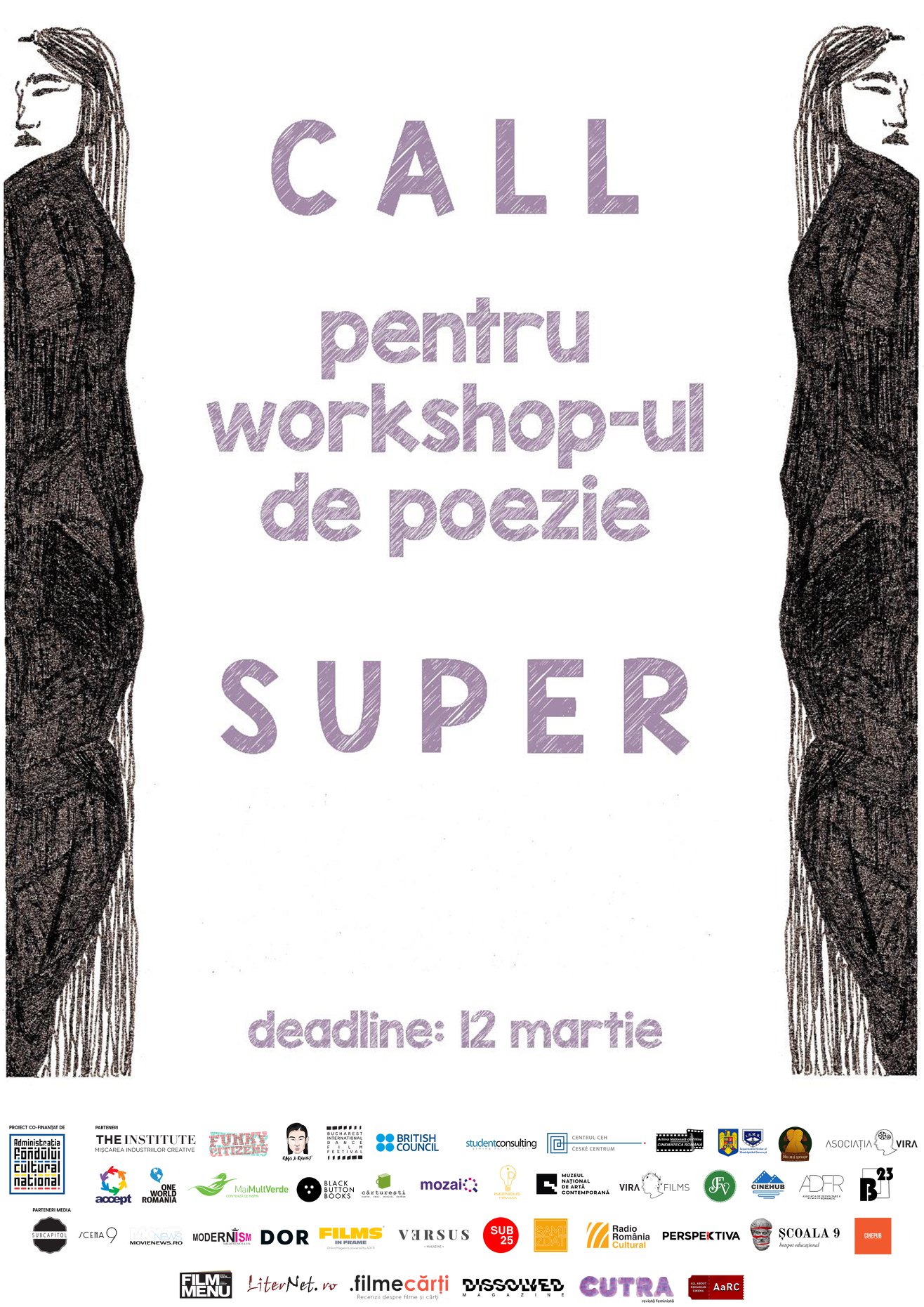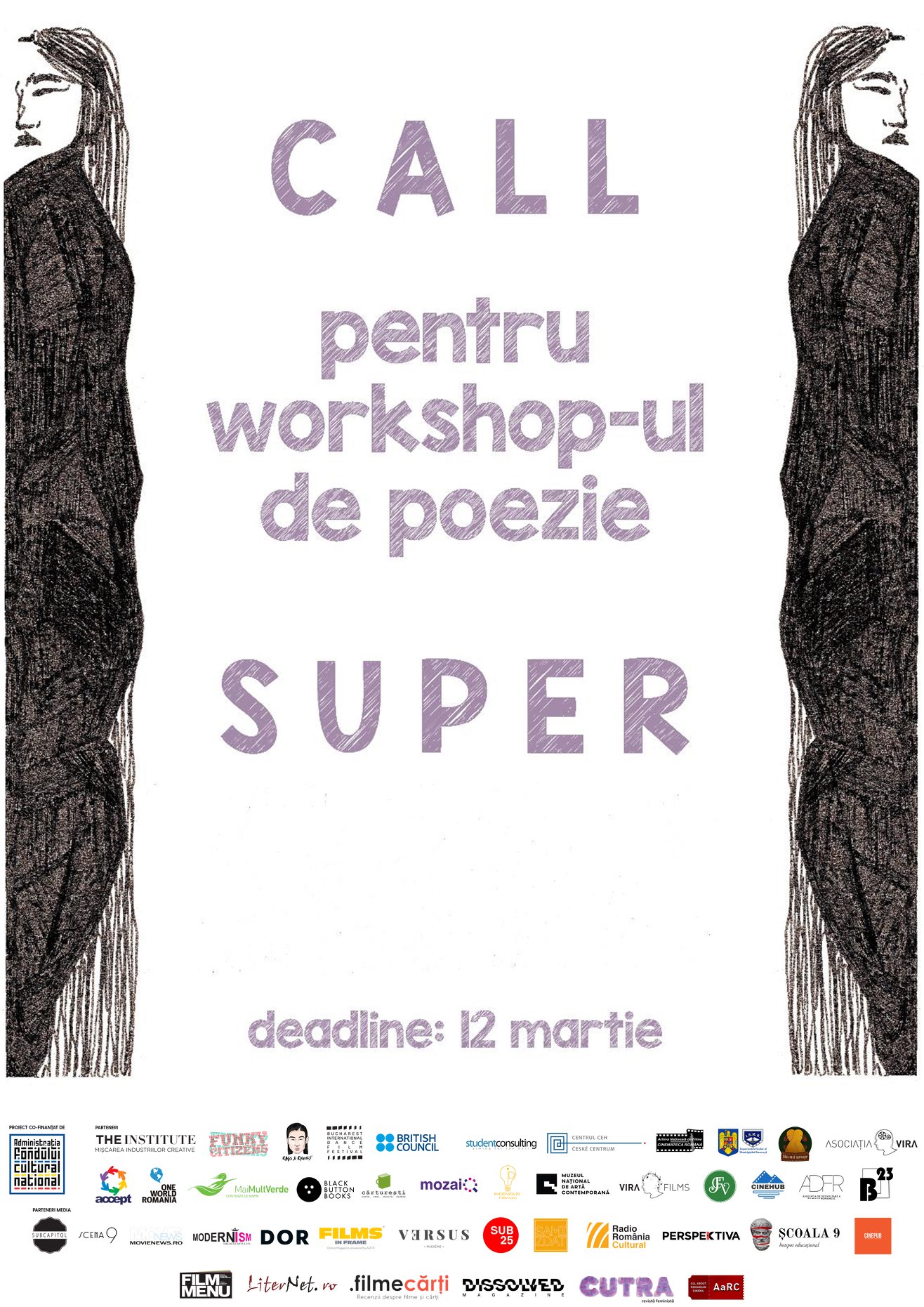 Știm că sunt multe call-uri Super la care vă invităm să fim atenți în perioada asta, dar sperăm că e un motiv de bucurie și pentru voi, la fel cum e pentru noi!
AȘADAR, DĂM START LA ÎNSCRIERILE PENTRU CEL DE-AL TREILEA ATELIER DE POEZIE SUPER!
Între 4 și 12 aprilie, în București, 10 liceeni vor avea ocazia să îi întâlnească pe Medeea Iancu, Claudiu Komartin, Andrei Dósa, Livia Ștefan, Alex Văsieș, Ștefan Baghiu, Cosmina Moroșan și Florentin Popa, participând la exerciții de scriere și discuții despre poezie. La sfârșitul atelierului, cei 10 vor avea o lectură publică, iar în timpul Festivalului Super (11-14 iunie) vom lansa Antologia de poezie, în care aceștia vor fi publicați.
Asigurăm transport și cazare, singura condiție e să fii la liceu (din orice oraș din România) și să trimiți 5 poezii la teonagal@gmail.com până pe 12 martie, ora 23:59. Abia așteptăm să vă cunoaștem! 🦄
—
afiș realizat de Elena Smîntînă
Proiect cultural co-finanțat de Administrația Fondului Cultural Național.
Parteneri: British Council România, Student Consulting, Black Button Books, Bucharest Dance Film Festival, Centrul Ceh, Arhiva Națională de Filme, Film mai Aproape, Inspectoratul Școlar al Municipiului București, Asociația Vira, Vira Films, Asociația Accept, MozaiQ, One World România, The Institute, Funky Citizens, Rags and Riches, Mai Mult Verde, Cărturești, ID Fest, Muzeul Național de Artă Contemporană, Fundația Calea Victoriei, Asociația Pentru Dezvoltarea Filmului Românesc, B23 Hub, Cinehub Tonitza.
Parteneri Media: Film Menu, Subcapitol, Scena9, Modernism.ro, Movienews.ro, Decât o revistă, Films in Frame, Versus, Sub25, Revista Samizdat, Radio România Cultural, Perspektiva, Școala9, Cinepub, CUTRA, All about Romanian Cinema, Dissolved Magazine, filmecărți.ro, Liternet.
Proiectul nu reprezintă în mod necesar poziţia Administrației Fondului Cultural Național. AFCN nu este responsabilă de conținutul proiectului sau de modul în care rezultatele proiectului pot fi folosite. Acestea sunt în întregime responsabilitatea beneficiarului finanțării.
https://www.superfestival.ro/wp-content/uploads/2020/02/87020520_1844818028976085_3075567802254360576_o.jpg
1861
1316
Super Festival
https://www.superfestival.ro/wp-content/uploads/2021/03/super-1-1030x464.png
Super Festival
2020-02-20 20:51:21
2020-02-20 20:51:41
Workshop-ul de poezie Super 2020