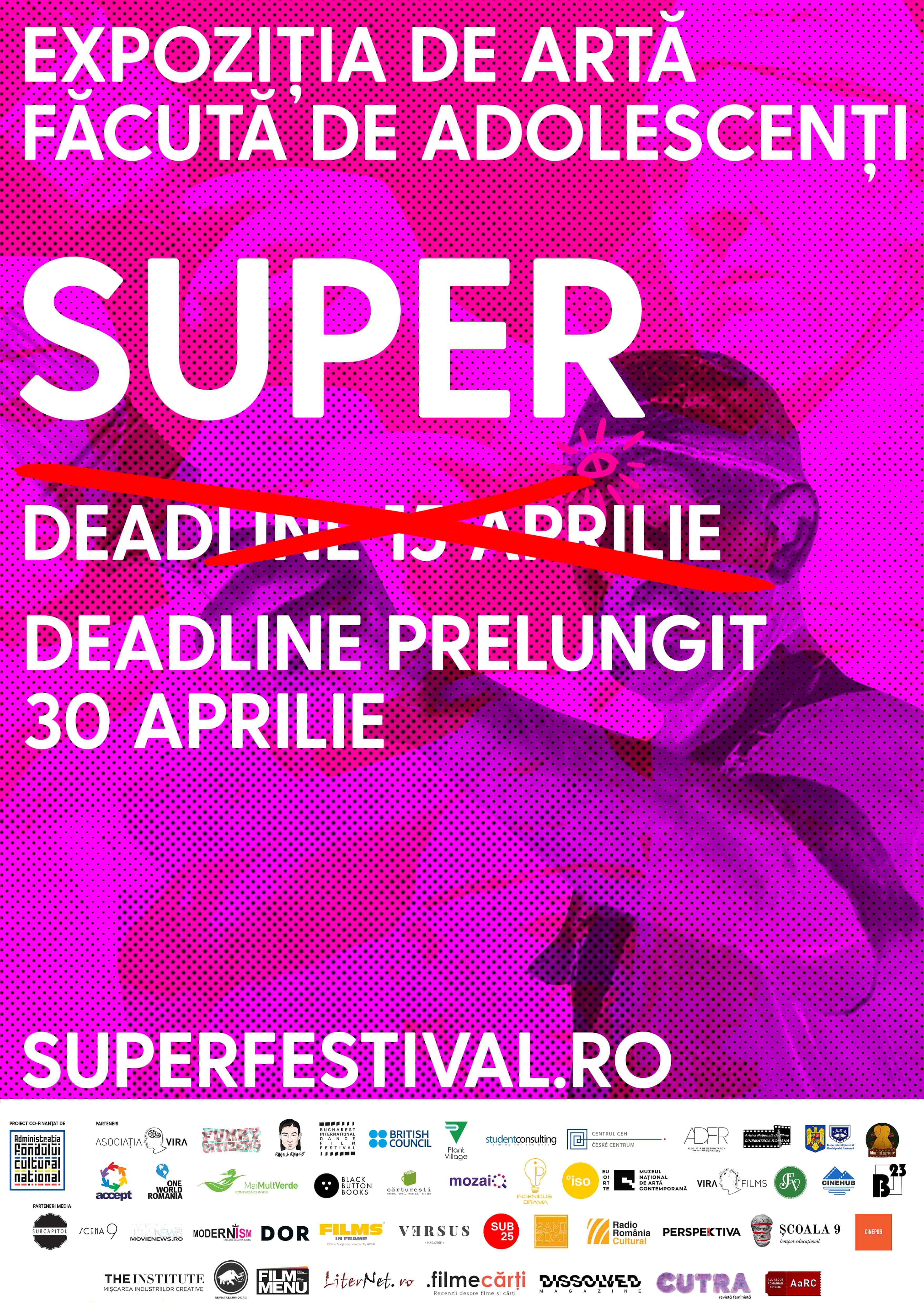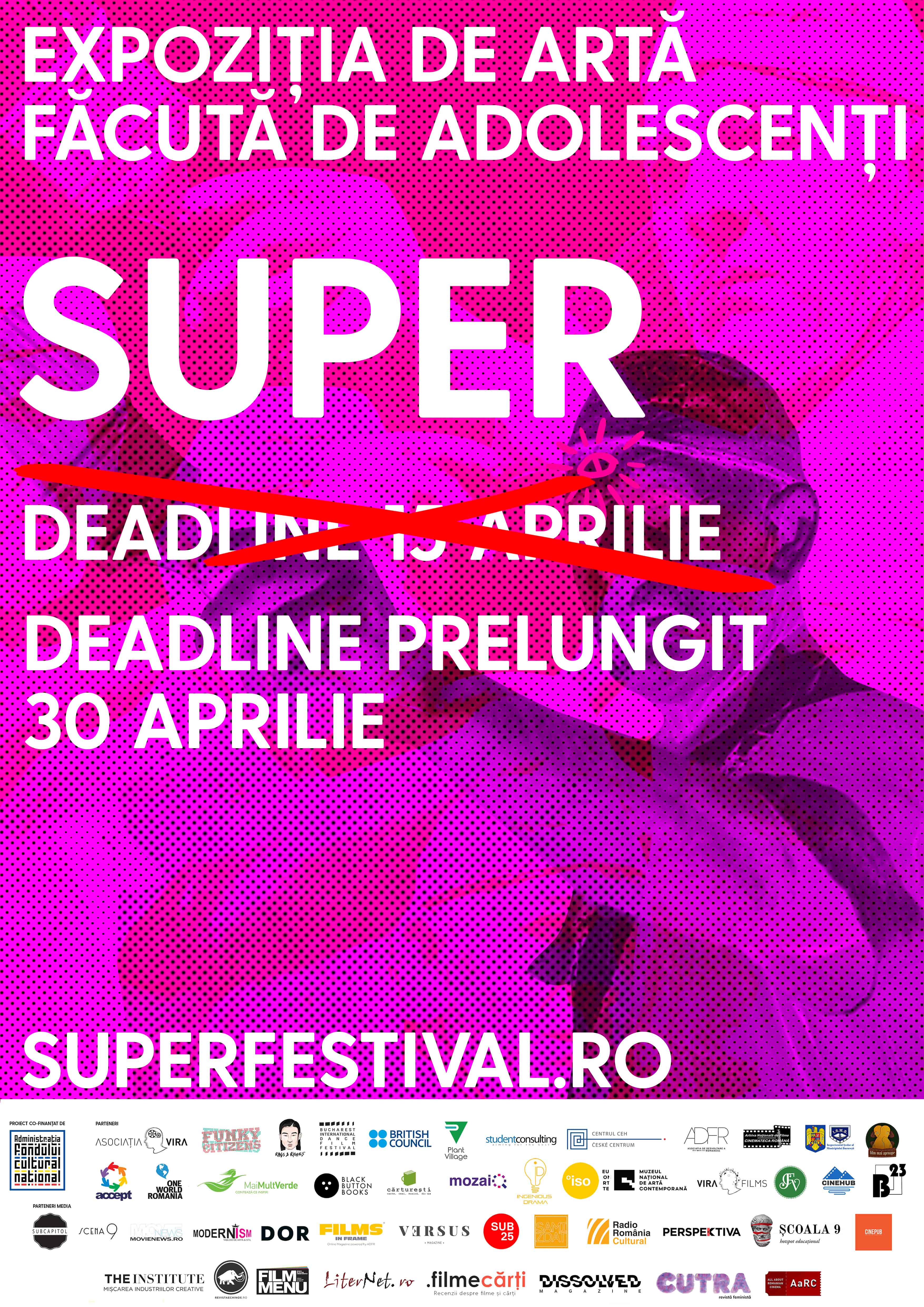 🎨 Înscrie-te la expoziția Super de artă făcută de adolescenți! Anul acesta, primim lucrări pe orice temă, urmând ca apoi să alegem o temă și un concept în funcție de lucrările primite.
🎨 Ai toate detaliile și regulamentul în formular. Te rugăm să îl citești și să îl completezi cu atenție, și să te asiguri că link-urile de drive trimise sunt publice/ se pot deschide. Dat fiind numărul mare de lucrări, te vom contacta abia după finalizarea selecției, și vom publica și pe site/ social media rezultatele. Dacă ai apăsat "trimitere" și a apărut mesajul de confirmare, atunci nu mai trebuie să faci nimic, ți-am primit înscrierea. Ne vedem la festival! <3
În cazul în care nu poți vedea pe site formularul, îl ai aici. 
Expoziția va avea loc la Plant Village, în București.
Proiect cultural co-finanțat de Administrația Fondului Cultural Național.
Parteneri: British Council România, Student Consulting, Bucharest Dance Film Festival, Centrul Ceh, Arhiva Națională de Filme, Film mai Aproape, Inspectoratul Școlar al Municipiului București, Asociația Vira, Vira Films, Asociația Accept, MozaiQ, One World România, The Institute, Funky Citizens, Rags and Riches, Mai Mult Verde, Cărturești, ID Fest, Muzeul Național de Artă Contemporană, Fundația Calea Victoriei, Asociația Pentru Dezvoltarea Filmului Românesc, B23 Hub, Cinehub Tonitza.
Parteneri Media: Film Menu, Subcapitol, Scena9, Modernism.ro, Movienews.ro, Decât o revistă, Films in Frame, Versus, Sub25, Revista Samizdat, Radio România Cultural, Perspektiva, Școala9, Cinepub, CUTRA, All about Romanian Cinema, Dissolved Magazine, filmecărți.ro, Liternet.
Proiectul nu reprezintă în mod necesar poziţia Administrației Fondului Cultural Național. AFCN nu este responsabilă de conținutul proiectului sau de modul în care rezultatele proiectului pot fi folosite. Acestea sunt în întregime responsabilitatea beneficiarului finanțării.
https://www.superfestival.ro/wp-content/uploads/2020/02/expo2-1-min.jpg
4961
3508
Super Festival
https://www.superfestival.ro/wp-content/uploads/2021/03/super-1-1030x464.png
Super Festival
2020-02-18 10:06:05
2020-04-01 19:48:09
Expoziția Super / Artă făcută de adolescenți/ 2020